Nanoil Castor Oil. A step towards natural skin care.
Castor oil is the most popular cosmetic ingredient. It can improve the condition of hair, skin, and nails. Are you looking for a 100% natural, cold-pressed, certified oil? Go for Nanoil Castor Oil, which can exceed your expectations.
Castor oil is a source of precious nutrients and fatty acids. I'm sure you've already heard it can speed up the growth of hair, brows, and lashes and condition them, as well as nourish and regenerate nails. However, not every oil works the same. Nanoil Castor Oils is a natural castor oil of the highest quality with a much lighter formula than others.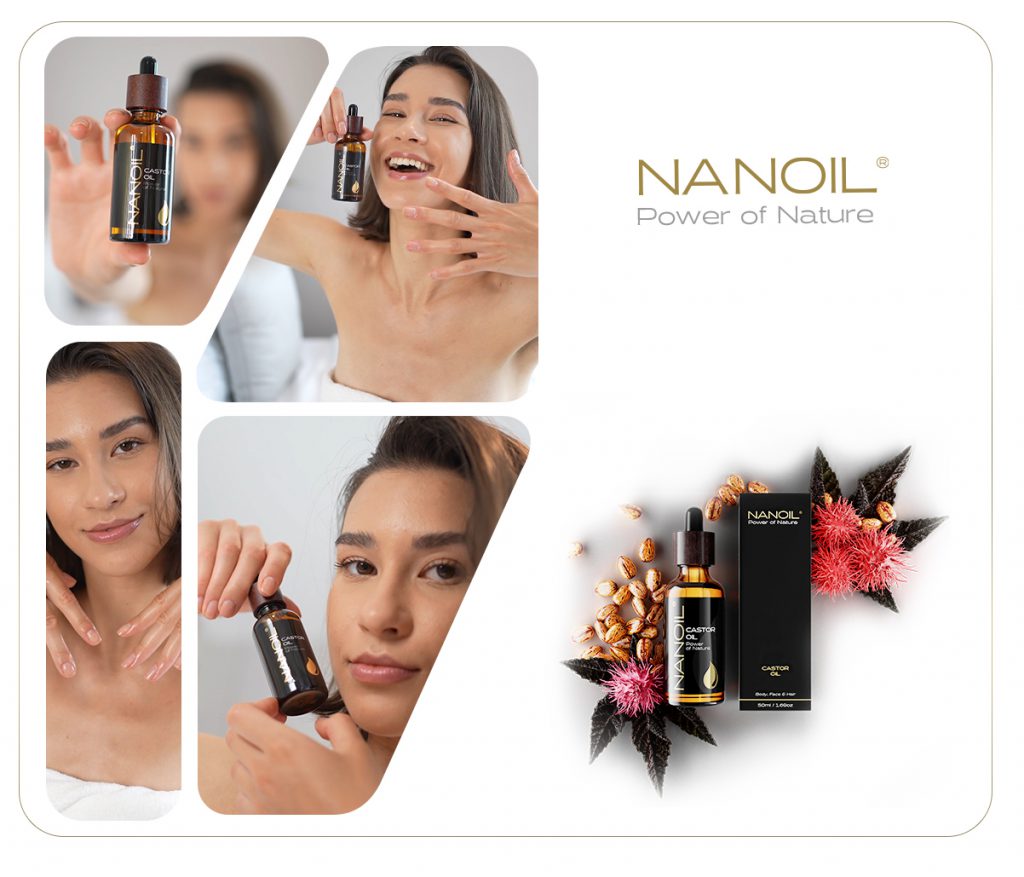 Nanoil Castor Oil – Benefits
The oil extracted from castor seeds contains fatty acids (ricinolic, linoleic, stearic, and oleic) necessary for the proper functioning of the skin and hair. It is a colourless or slightly yellow, fragrance-free liquid. This natural oil is a source of vitamins A and E, nutrients, and minerals. It is widely popular in medicine and cosmetics.
Castor oil can penetrate the deepest layers of the skin, hair, and nails, supporting their regeneration. It is especially known for its spectacular effects in hair care. Added to the hair mask, shampoo, or conditioner, it makes the hair resilient, shiny, and much stronger. It can be applied as a rub-on scalp conditioner to stimulate microcirculation, stop hair loss, strengthen the follicles, and promote hair growth. It effectively combats dandruff, psoriasis, and scalp irritation. It prevents the ends from breaking and splitting and protects them from damage.
Nanoil Castor Oil works as a conditioner for lashes and brows. With systematic use, the oil can darken the hair, strengthen the follicles, and restore their natural shine. Ricin prevents lashes and brows from falling out, promotes their regeneration, and makes them thicker and stronger.
The antibacterial and anti-inflammatory properties make castor oil suitable for oily and acne-prone skin, preventing breakouts and inflammation. It deeply moisturizes and lubricates, and strengthens the hydrolipidic skin barrier. Castor oil also works as a base oil in the OCM method and it can wash off even waterproof makeup.
Due to its high density, castor oil is rarely applied directly to the skin. However, it is an excellent addition to moisturizing lotions or creams, significantly boosting their effects. Castor oil combined with a body massage is a remedy for cellulite and stretch marks.
Nanoil Castor Oil – benefits
it has antibacterial, anti-inflammatory, and antifungal properties,
it is 100% organic, cold-pressed, and unrefined,
it strengthens the hydrolipid skin barrier, protecting it from damage,
it promotes the growth of hair, brows, and lashes,
it has moisturizing and lubricating properties,
it supports skin regeneration,
it's multi-purpose and versatile.
The oil is enclosed in a luxurious, amber glass, black and gold bottle with a handy dropper. You can use it in various ways, and the dropper will allow you to precisely dose the product. The cosmetic is 100% natural, organic, and certified by Ecocert. The popularity of castor oil is fully justified as it stands out from the competition.
Where to buy Nanoil Castor Oil?
You can find Nanoil Castor Oil in every online drugstore, but we recommend ordering it from nanoil.us to get the fastest home delivery. You can discover the whole range of their unique, natural products on the official website of the producer. Take a step towards natural skin care today!