ColorCuts – Foam Strips For Hair Colouring
ColorCuts – Foam Strips For Hair Colouring
ColorCuts hair colouring foam strips were designed for professionals. They ensure full control of the colouring procedure and let you gain more satisfied customers.
These polystyrene foam strips are designed for all hair lengths. Pre-cut and ready to use, they are made from a lightweight, thermal material for maximum comfort.
Highlighting Foam Strips – biodegradable hair strips
Did you know that ColorCuts strips are made from 80% recycled materials? They are eco-friendly and reusable. After use, you can pop them in the washing machine up to 3 times and they won't lose their properties.
The high quality and effectiveness provide the ultimate comfort of the colouring treatment and up to half the colouring time. The flexibility and size of the strips allow precise application of the hair dye right to the roots.
Properly apllied strips prevent mechanical and thermal damage, as they don't pull on the hair during removal and they allow air circulation between the layers. The strips remain cool to the touch, maintaining the heat for a comfortable treatment.
No more ordinary aluminium foil!
Colouring products combined with aluminium foil have disastrous and often irreversible effects on the hair. Dryness, hair loss or wrong colour are just a few examples. Don't make these mistakes. Thermal Highlighting Foam Strips guarantee safe and faster colouring without damaging or overheating the hair.
The Maltese ColorCuts brand creates eco-friendly and top-quality products designed to streamline professionals' jobs. This gadget for hair colouring can streamline the colouring process. If you want your hair salon to upgrade its prestige, keep up with the latest attractive gadgets.
Both professional colourists and trainees like to use biodegradable strips. These practical tools not only provide enjoyable treatment, but also streamline the colouring process. The high level of hygiene and ease of use are really impressive.
ColorCuts strips are extremely comfortable in use, even if you are not experienced in bleaching, colouring, highlights or balayage. The strips allow you to achieve exceptional and stunning colouring results.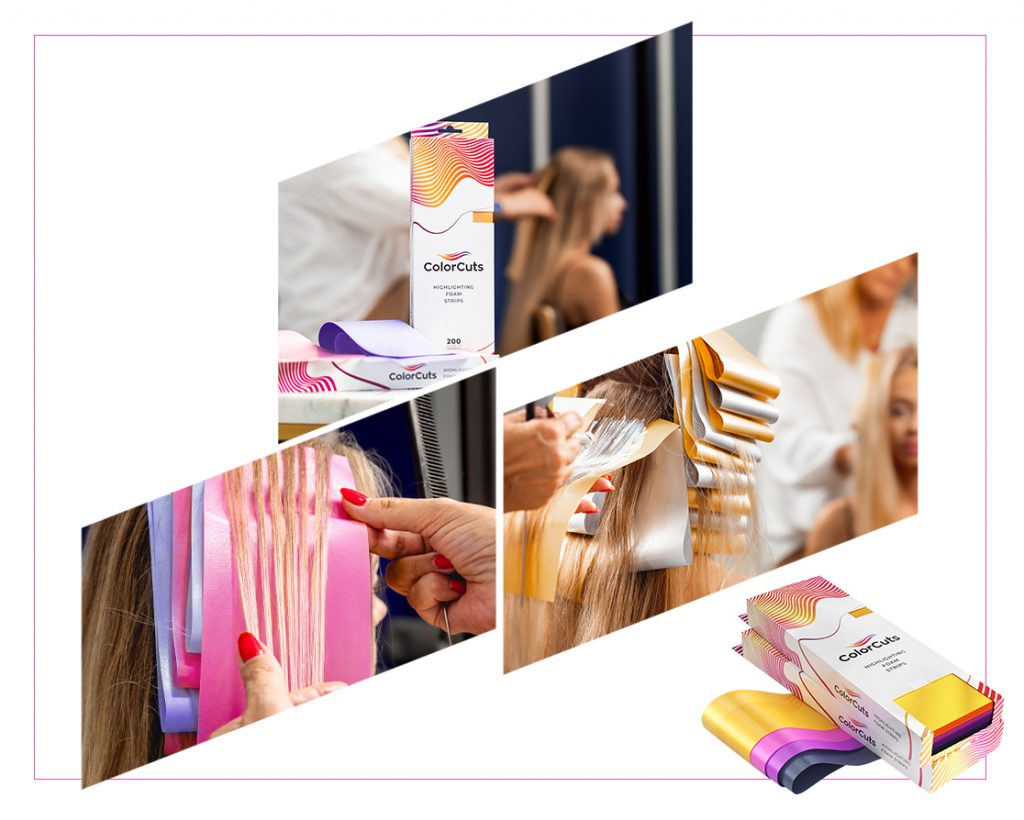 Eco-friendly strips and top-quality services
Innovative gadgets can make you stand out in the hairdressing market and ensure 100% customer satisfaction. If you want to provide the best services, you need to keep up with the latest trends. The polystyrene lightweight thermal strips are make your salon more attractive and combine sustainability with new technologies.
Say goodbye to aluminium foil once and for all. Highlighting Foam Strips are biodegradable and last you up to 800 uses. Following application, wash and reuse them.
ColorCuts strips provide:
half the colouring time,
high comfort,
top quality,
maximum control over the colouring process,
minimum thermal and mechanical damage,
practical accessories for higher prestige,
biodegradable and lightweight material,
big savings for your salon.
Highlighting Foam Strips from ColorCuts are eye-catching, economical and easy to use. Get the best colouring results at every level. Learn more about the product: www.colorcuts.mt.