Body Fiesta by dr Irena Eris. Body Fiesta Cosmetics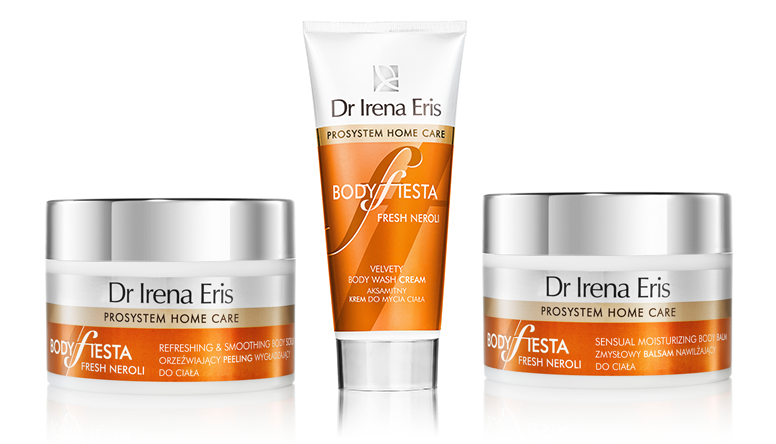 Body Fiesta – new line by dr Irena Eris – includes three cosmetics designed for body care. These are: Refreshing and Smoothing Body Scrub, Sensual Moisturizing Body Balm and Velvety Body Wash Cream. The products offer the scent of orange hence the cosmetics' name – Fresh Neroli.
Dr Irena Eris Body Fiesta Fresh Neroli Refreshing and Smoothing Body Scrub perfectly removes dead skin cells. Sugar grains included in the cosmetic make the skin smooth and elastic. Lemon extract is responsible for moisturizing and refreshing. Vitamin E and soya oil protect the skin from harmful work of antioxidants, hinder anti-ageing processes and provide beautiful look. Dr Irena Eris scrub is recommended for skin care of every type, regardless of age.
Body Fiesta Fresh Neroli Sensual Moisturizing Body Balm is recommended to all those who struggle with dry, sensitive, irritated and dull skin. The cosmetic deeply moisturizes, regenerates and nourishes. Olive wax and babassu oil povide strengthening whereas cocoa butter protects the skin from sunbeams, free radicals and air pollution. The product can be used both in the morning and in the evening.
Body Fiesta Fresh Neroli cosmetic is Velvety Body Wash. It cleanses thoroughly, refreshes and condItions the skin. Among the ingredients there's vitamin E which limits the influence of harmful factors coming from the external environment. Lemon extract lightens the skin whereas orange flower provides fresh and pleasant fragrance. Dr Irena Eris cosmetic will take care of every skin type.
Body Fiesta offers lots of other cosmetics designed for body and face skin care but also for hair. We can find for example: Regenerating Body Butter with Argan Oil, Algae&Coral Smoothing Body Scrub, Lime&Lemon Refreshing Body Scrub, Vitalizing Body Balm, Muesli Body Cream, Cinnamon Foot Mask, Cherry Cream-Oil, Aromatic and Relaxing Oil.