Nanoil Argan Oil – discover the power of nature!
Nanoil Argan Oil – discover the power of nature!
Nanoil Argan Oil is extracted from the worshiped, long-living and highly respected Argan trees which grow exclusively in the southwestern part of Morocco. The Nanoil brand made sure their argan oil retains all the precious properties of the world's most popular oil. It is a certified, hypoallergenic, organic oil for all skin and hair types.
---
Properties and uses of Nanoil Argan Oil
It is natural, 100% organic, unrefined and cold-pressed argan oil. It's also certified by Ecocert, a certification issued only to the highest quality organic products. By choosing Nanoil Argan Oil, you can be sure that you are getting a non-animal tested, dermatologically tested product full of carefully selected active ingredients.
Argan oil is packed with antioxidants that effectively delay the skin ageing process. They nautralise free radicals and protect from UV rays and oxidative stress. The oil works not only on the body but also on lashes, brows, hair and nails. It works as a luxurious serum, a natural conditioner and a DIY cosmetics ingredient that boosts their effects. It has powerful moisturising and nourishing properties.

Nanoil Argan Oil – active ingredients
Nanoil Argan Oil is mainly composed of unsaturated fatty acids – oleic and linoleic, which have protective, moisturising and soothing functions. They maintain adequate skin hydration, preventing water loss. They stimulate the production of collagen and elastin, responsible for the youthful look of the skin and strengthen its hydrolipid barrier.
It contains a range of antioxidants that provide natural protection from free radicals, UV rays and oxidative stress. Antioxidants include vitamins A, C, D, and E, as well as selenium, which can be found in argan nuts.
The high concentration of vitamin E protects the skin from ageing, restores a natural, youthful look and evens out skin tone. The oil is perfect for sensitive, thin, and delicate skin. It penetrates the deepest layers of the skin, boosting its radiance.
Polyphenols strengthen blood vessels and improve microcirculation, and have strong antibacterial and anti-inflammatory properties. These antioxidants prevent sunburn and discolouration.
Carotenoids have anti-ageing properties, cope with acne, skin imperfections and dull, tired skin. They eliminate discolourations, strengthen the skin and control the function of the sebaceous glands.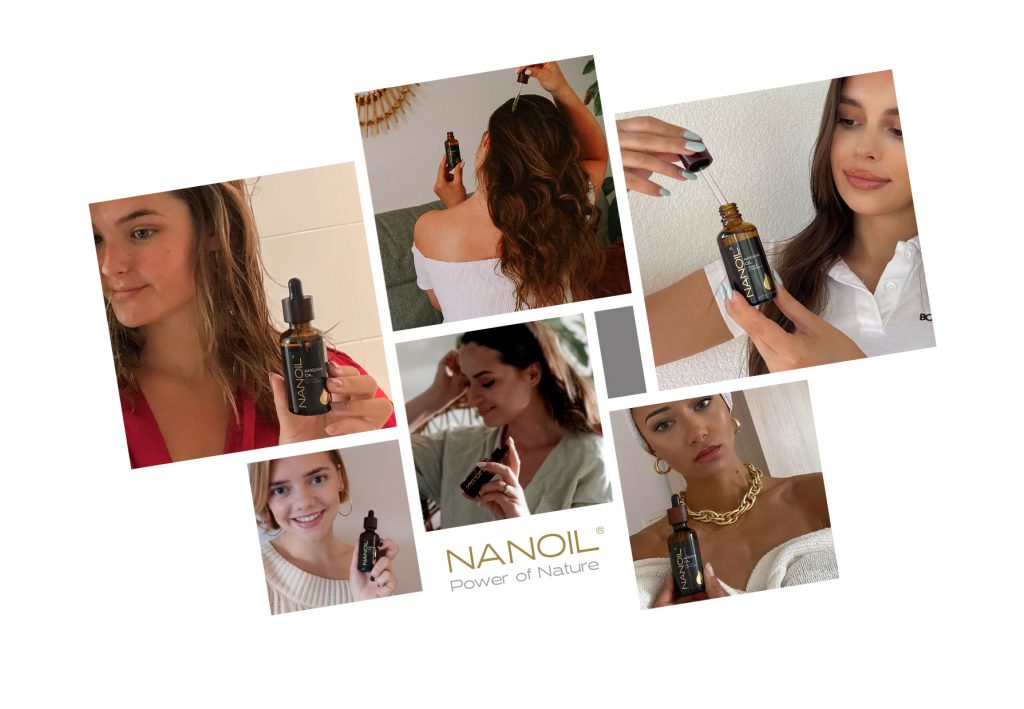 When to use Nanoil Argan Oil?
your skin is dry and creams and body lotions don't work,
your hair is frizzy, static and difficult to style,
you want to grow and thicken your lashes and brows,
you struggle with cellulite, stretch marks and scars,
you make homemade cosmetics and want to boost their effects,
you have brittle, crumbly nails,
you like natural, vegan products with simple ingredients.
Argan oil is the best solution for your daily skin care and it's totally up to you how you use it. With regular use, you will quickly achieve your dream results. For more info go to: www.nanoil.us.
---