A Beauty Sensation From Ghasel – Day And Night Face Moisturiser
A Beauty Sensation From Ghasel – Day And Night Face Moisturiser
A skin care foundation? Good moisturizing is a must. Did you know that without a good moisturizing cream your skin ages faster, starts sagging, lacks suppleness and looks constantly tired? Fortunately, it doesn't have to be your case! Discover the perfect GHASEL Moisturiser with unique Maltese honey combined with the power of plant extracts and vitamins.
What if you could finally achieve perfectly pampered skin?
It's possible! All you need is the right ingredients and a well-designed product with a great formula. How to find it? No worries! We suggest trying out the sweetest skin care in the world – Ghasel Honey Face Moisturiser. Did you know that Maltese Honey Face Moisturizer contains one of the oldest honey in the world? This honey contains up to 90% thyme pollen. In addition to its health-beneficial properties, this precious flower pollen also has powerful cosmetic properties so it:
nourishes and moisturizes the skin,
stimulates skin regeneration,
improves the condition of skin,
smooths out wrinkles,
soothes irritated skin.
Maltese Honey Face Moisturizer Cream – a great formula
An excellent formula is the strongest selling point of this highly nourishing and powerful face cream. This refined, rich and full of goodness face cream contains:
Maltese honey.
It is a highly nourishing ingredient, rich in vitamins and microelements. It moisturises and smooths the skin, leaving it radiant and beautiful. It also reduces blemishes and inflammation. It provides a radiant appearance to the skin. Its antibacterial properties are irreplaceable for dry, problematic or allergy-prone skin. It improves skin suppleness and elasticity for a long time.
Shea butter
A rejuvenating dose of moisture for all skin types. Shea butter has strong anti-wrinkle properties as it supports the production of collagen and elastin.
Castor oil
Its purifying properties protect the skin from moisture loss.
Caffeine
Stimulates and energizes tired skin and strengthens blood vessels.
Vitamin B6
This antioxidant with anti-inflammatory and anti-aging properties brilliantly smooths the skin!
Green tea extract
Neutralises free radicals and cares for impure skin.
Sage extract
Ideal for acne-prone and oily skin. Prevents shine as it regulates sebum production and tones the skin.
IMPORTANT!
Did you know that GHASEL face cream is free of irritating silicones and parabens, GMOs and any controversial ingredients that could be harmful to your skin? It delivers the essence of pure beauty, enclosed in an elegant jar! You will love it from the first use!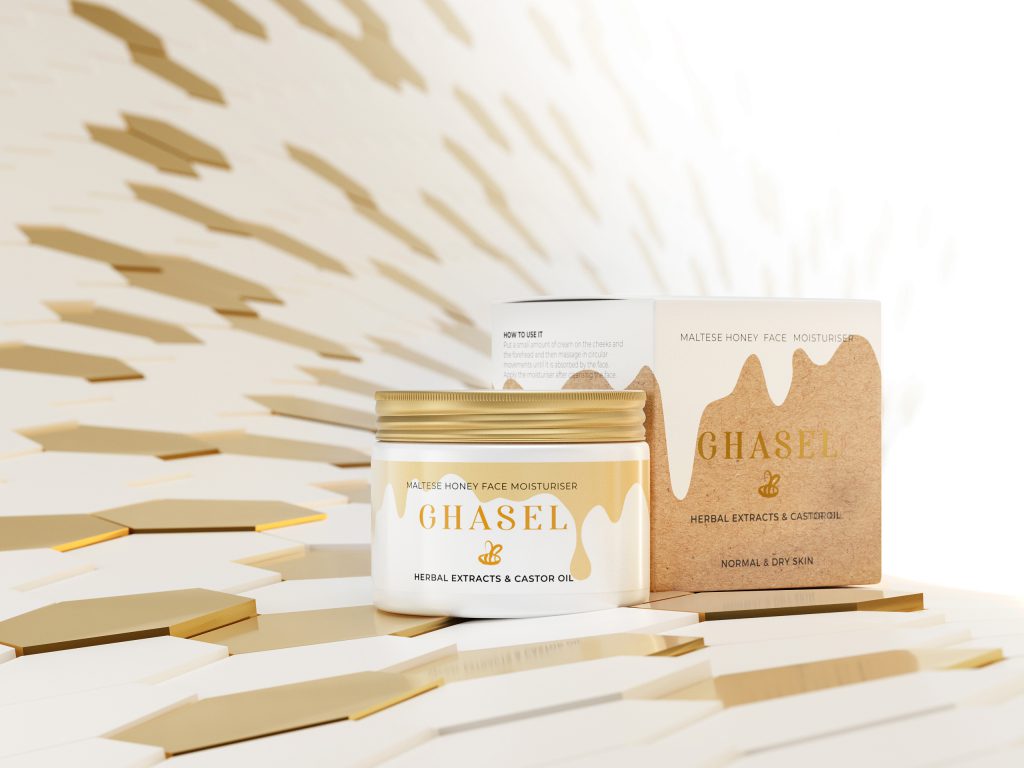 Maltese Honey Face Moisturizer – benefits
nourishes and strongly moisturizes,
conditions skin 24 hours a day (perfect for day and night),
smooths and combats skin dryness,
prevents signs of aging,
improves skin condition day after day,
protects the skin from damage,
delays wrinkles.
Where can you buy this excellent face moisturiser? Visit www.ghasel.mt and discover the entire series of excellent honey-based face and body cosmetics!
---