Get Brand-New Hair! See TOP 6 Keratin Hair Masks that Give Salon-Quality Effects!
Keratin is a synonym for lovely hair. These days every girl knows that effective hair care requires a keratin treatment. However, you don't need expensive in-salon procedures to bring lost shine back and make hair healthy again. Are you looking for a good keratin mask? Check top picks from consumers and haircare experts!
WHAT CAUSES DAMAGE TO HAIR?
Apart from genetic predispositions and some serious health issues, there are many other reasons why hair is in bad condition. Here they are:
Unsuitable haircare products or not using any conditioning treatments at all, leading to deficiency of vitamins and minerals.
Setting the highest temperature on a blow-dryer.
Using heat styling tools like straighteners and curling wands.
Tugging and pulling while combing hair out.
Tight hairdos, backcombing, overuse of a hairspray.
Lack of protection against the sunlight/UV.
Towel-drying, sleeping with wet/damp hair.
HOW TO CARE FOR HAIR THE RIGHT WAY?
Thankfully, damaged hair can be fixed thanks to suitable daily care and special treatments. Of course you can get a salon treatment but remember that one-off pricey procedure will not repair your hair. Regularity and day-to-day actions matter. Caring for hair at home is what we all need to stick to. There are lots of natural ways to revive damaged strands. Firstly, try to eliminate all things causing damage and treat your hair gently. Secondly, find the best keratin-infused hair mask.
KERATIN-RICH HAIR MASK – BENEFITS
First and foremost, keratin is able to repair inner layers of hair because this is a structural protein which builds the hair. Regularly supplied in a mask it is able to revitalize your damaged hair, improving its condition and appearance. Proteins are savers for damaged hair while keratin is obviously one of them. You need to replenish it constantly to fill the porous gaps in the cuticle and get hair health back. A fine-quality keratin hair mask:
holds a hydrolyzed type of keratin which is built of molecules that are small enough to easily penetrate the hair.
is made from beneficial ingredients and is high in keratin (the formula should not be overloaded with too many components because this makes the precious protein work worse).
receives good reviews from the users.
works fast, does not weigh hair down, makes hair look better after just one use.
TOP 6 Keratin Hair Masks that Give Salon-Quality Effects
1. NANOIL KERATIN HAIR MASK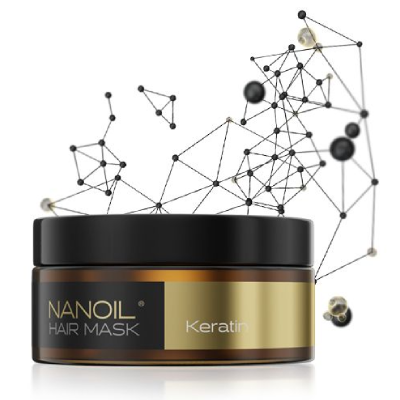 Users have no doubts: Nanoil is the best-working keratin mask out there. This best-seller has a wonderful smell, lasts long, and is very lightweight. In other words, you get a perfect treatment for all hair types: damaged, weak strands, but also healthy hair that needs nourishing and strengthening to keep strong and lovely-looking. The amazing aroma stays on the hair long after conditioning. The price is very fair! Of course the performance of the mask is the thing we're interested in the most.
Nanoil never fails: it effectively repairs damaged hair thanks to a big amount of keratin. The formula is also infused with panthenol which helps to transport keratin molecules to the inside of hair, remarkably enhancing the effectiveness. The mask gives better-looking hair STAT! The beautifying, smoothing, and shine-boosting effect is what users rave about.
Nanoil takes one application to give smoother and shinier hair. Learn more here: www.nanoil.us.
2. GLOBAL KERATIN DEEP CONDITIONER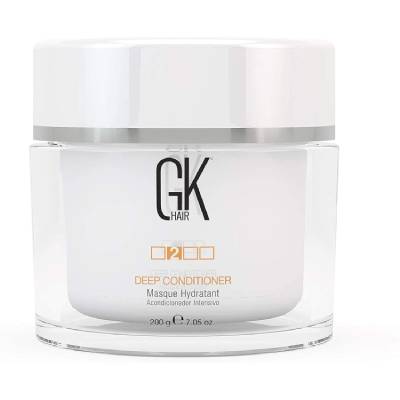 Despite a small packaging and high price, this mask enjoys popularity. It was made popular by hair salons and online stores. The Global Keratin Deep Conditioner works from the first use, leaving the hair smoother and optimally moisturized.
The product holds a good portion of keratin and is rich in Juvenix Complex created by the brand. It sounds mysterious but it is simply a blend of vitamins and peptides which enhance damaged hair. The Global Keratin Deep Conditioner cares for weak, dull, shineless hair. It takes regularity and quite a lot of time to produce effects but they will come if you're patient.
3. GOLDWELL KERASILK CONTROL MASK
A mask by Goldwell had to be included among top keratin mask picks. This line of products is recommended by hairstylists all over the world. Is it easy on the pocket too? Sadly not. Some people would even say it is crazy to pay so much money for a hair mask. There are more budget options giving great results but if you're big on Goldwell products, give it a go!
The Goldwell Kerasilk Control Mask helps solve problems of weak, thinning, limp-looking hair. Because the mask is enriched with silk proteins, it remedies dry, stiff strands. Thanks to the blend of two types of proteins, the product works and conditions the hair since the first use. We only wish it was bigger, easier on the pocket and lasted for longer.
4. KEUNE CARE KERATIN SMOOTH HAIR MASK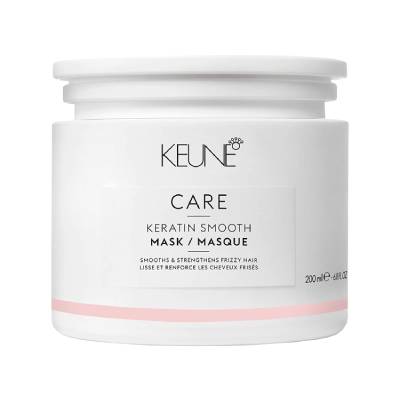 Keune Care Keratin Mask is another product on our list of keratin masks to try. This one has been designed for damaged, lifeless, stiff hair. Too bad it holds a small amount of keratin. Oils play a key role in the formula. Still, users say the mask makes hair shinier and more resilient.
Apart from keratin molecules, the mask is rich in provitamins and shea butter. They all work to strengthen the hair and protect it from damage caused by blow-drying or external aggressors. This keratin mask works well on frizzy and static-prone hair. You simply apply it on damp strands after washing and towel-drying, leave it in for two minutes, and rinse well. Two minutes are not enough to repair damaged hair but shine and smoothness are guaranteed.
5. WELLA SP LUXE OIL KERATIN RESTORE MASK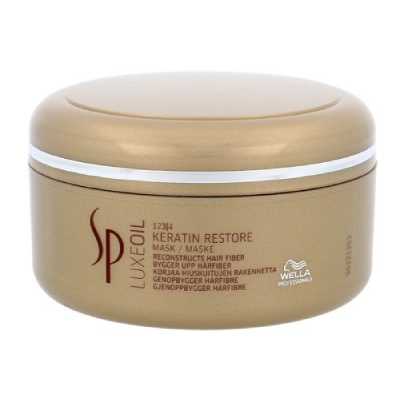 Another good option we came across is the keratin mask for damaged hair by Wella. The Wella SP Luxe Oil Keratin Restore Mask has a good price and comes in a pretty big packaging. The mask is really thick so it isn't good for fine hair. If you use it improperly, it is very likely to weigh your hair down. Remember to rinse it thoroughly. Otherwise, you can forget about a voluminous hairdo.
Because of the thickness, it doesn't last long but there are some benefits we need to list: the formula is rich in liquid keratin and oils which nourish the hair, and make it softer and shinier. Regular use pays off, keeping the hair healthy and beautiful.
6. SYOSS CERAMIDE COMPLEX HAIR MASK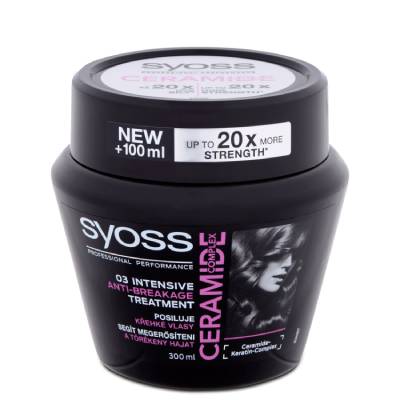 Syoss is a quite popular brand that offers an inexpensive mask lasting long. Users like their products for really good prices but the opinions on the effects are mixed. There's one sure thing: Syoss Mask is a popular pick and we had to include it in our round-up.
The product houses some effective ceramide-and-keratin complex, but it also contains some silicones and substances that may weigh hair down. That is why the mask works best on healthy, low porosity hair, acting as a form of anti-damage prevention. Regular application makes hair stronger, more resilient, and damage-proof.