Nanoil Anti-Redness: What Can This Face Serum Do?
The formula of Nanoil Anti-Redness Face Serum was created to answer the needs of sensitive and reactive skin. This doesn't mean, however, that the serum is dedicated only to the complexions prone to broken capillaries and uncontrolled redness. What are other benefits of Nanoil Anti-Redness Face Serum?
Formula, effects and applications are what define a cosmetic's quality. In the case of Nanoil anti-redness face serum, the product offers plenty of applications, which is mainly due to the ingredients it is made from. What exactly does it mean?
It all comes from the ingredients!
Nanoil Anti-Redness Face Serum is a water-based enriched with a blend of naturally-derived substances. This means that the serum is a mild cosmetic, perfectly able to soothe irritation, which happens to be a common concern of sensitive skin. The well-thought-out composition is the key to success, so what can you find in Nanoil face serum?
Linden extract deals with inflammation and soothes irritations.
Cypress extract moisturizes, nourishes and provides protection.
Chestnut extract seals and improves blood vessels' elasticity.
Punarnava extract is proven to be a naturally-derived anti-aging agent.
The serum is also boosted by vitamins, extra moisturizers and nutrients. But most of all, Nanoil serum is completely free from phthalates, parabens, artificial colorants or aromas, which are what irritate the skin the most.
Nanoil Anti-Redness: What can this face serum do?
Looking at the ingredients, it's plain to realize that Nanoil achieved success in creating a top-notch serum for irritation-prone skin. It works when other cosmetics are too strong or contain ingredients which aren't tolerated by sensitive skin. Nanoil serum is gentle yet efficacious, handling a few tasks at the same time. What can Nanoil Anti-Redness Face Serum do? It:
soothes irritation
strengthens and makes capillaries more flexible
prevents them from breaking
reduces redness
refines skin's texture
protects against irritation
rejuvenates dull skin
replenishes moisture
Why should you reach for Nanoil serum?
TO TREAT BROKEN CAPILLARIES
Since this serum is made primarily for redness-prone skin, it works to fix broken capillaries by default. It's programmed to brighten spider veins that show through the skin, but it also prevents the appearance of new vascular lesions. How does it do that? Simply by making the walls of blood vessels more flexible and stronger.
TO REDUCE ROSACEA AND REDNESS
It's worth mentioning that you can reach for Nanoil Anti-Redness Face Serum even when you don't need to deal with broken capillaries. Nanoil serum aids in reducing facial redness and persistent erythema typical of rosacea-affected skin.
TO SOOTHE IRRITATED SKIN
Interestingly, Nanoil Anti-Redness Serum is a cosmetic that can be introduced to the daily regimen of any skin type. Use the serum always when your skin feels irritated, when you want to deal with inflammation or when your complexion has problems with tolerating other skincare cosmetics.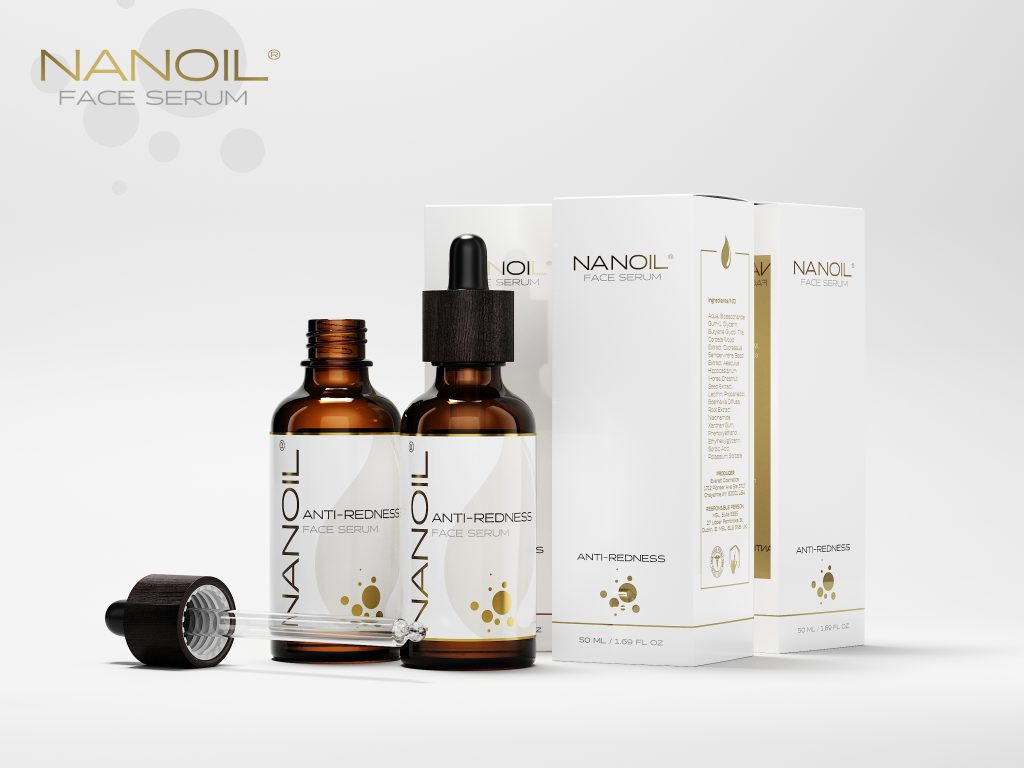 No 1 among face serums
The newest offering from Nanoil is currently one of the most popular face serums, recommended by cosmetologists to take care of reactive skin. It combines the finest naturally-derived ingredients with gentleness, which is exactly what sensitive skin craves for. Therefore, if you wish to feel comfortable in your own skin and get rid of unwanted spider veins and blemishes in a single step, choose Nanoil Anti-Redness Face Serum and see for yourself how great it works. Since the great majority of women claim to be positively surprised by the effects, why wouldn't you join the group of satisfied users?