Nanobrow Lamination Kit for DIY Eyebrow Lamination – Fast and Easy Treatment At Home
If you're seeking an easy way to define eyebrows without filling them constantly, then you definitely need to consider eyebrow lamination! It uses thioglycolic acid to change the shape and position of brow hairs. The acid is necessary for performing brow lamination because it manages to penetrate the hair and create the desired brow shape, which in turn enables permanent brow styling. Why has eyebrow lamination become such a popular beauty treatment? How to do it at home? Keep reading to find out!
What Is Eyebrow Lamination?
Eyebrow lamination is a semi-permanent beauty treatment that's done to lift the brow hairs for a fluffy, voluminous look. During lamination, a solution with thioglycolic acid is used for lifting, thickening and shaping the brows. Eyebrow lamination has two stages which involves applying a lifting and setting lotion. The whole treatment takes around 45 minutes while the results last for up to two months. Depending on preferences, we can either do it at home or at a beauty salon. In today's article, we focus on DIY eyebrow lamination with a ready-to-use brow kit.
DIY Eyebrow Lamination Kit – Nanobrow Lamination Kit
If you want to save time during a morning beauty routine and make sure your brow routine is always fast and easy – this eyebrow lamination kit is the right choice. Your eyebrows will stay precisely styled, lifted and fluffy for many weeks.
Nanobrow Lamination Kit is a pro tool kit with all products and accessories that are necessary for doing eyebrow lamination at home. You can forget unruly brow hairs sticking out. All by yourself, you can get brand new arches and stronger, hydrated hairs. You'll see that DIY eyebrow lamination is simple, pleasurable, and takes less than an hour!
The kit includes:
brow glue
lifting solution
fixing solution
10 applicators
brush
spoolie
directions for use
Nanobrow Lamination Kit – a complete kit for brow lamination at home or a beauty salon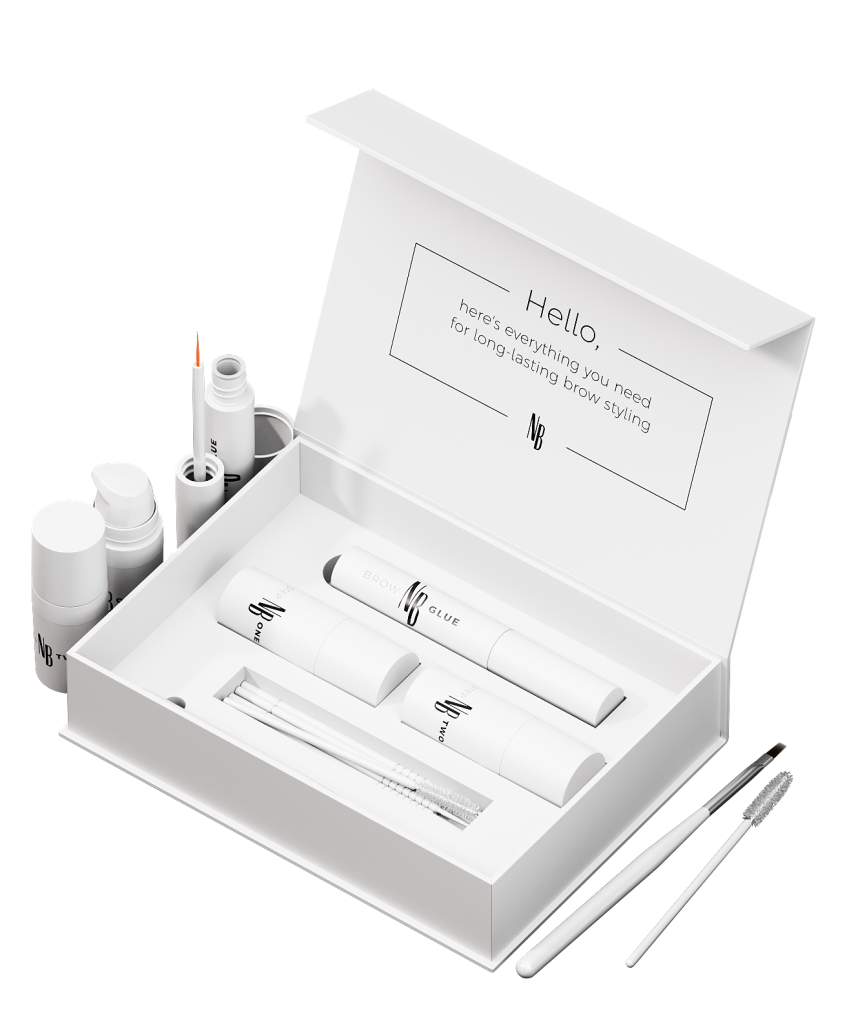 Go to www.nanobrow.us and check out its benefits
Why is it good to do brow lamination using the Nanobrow kit?
Eyebrows look fuller and fluffier – because the hairs are evenly shaped and brushed up, they appear denser and more voluminous.
Long-lasting result – effects after at-home eyebrow lamination usually last from 4 to 6 weeks, which means we don't need to use any brow makeup products every day – eyebrows look lovely even makeup-free!
Easier styling – after brow lamination, hairs are already shaped properly, which makes them easier to style and locks them in place.
Younger looks – eyebrow lift effect improves the shape of brows, lifts them to add definition to the arches, makes the eyes appear bigger, and leaves your face looking younger.
DIY Eyebrow Lamination – Results
Eyebrow lamination delivers a thicker look, healthy shine, and improves eyebrow shape, which allows you to enhance your eyes.
Your eyebrows will appear thicker and fuller than ever before, plus will have smooth texture and subtle shine.
Eyebrow lamination helps shape brow hairs into the desired position and we take control of the process. The treatment provides a lifting effect to make the brows look more voluminous.
At-home eyebrow lamination not only tames unruly hairs but also defines the brow shape leaving arches better-looking. Your brows will be more symmetric while bald spots will be less noticeable.
After lamination, eyebrows are bolder and fluffier. The results last for several weeks, depending on the speed of hair growth.
Additionally, brow lamination may help make sparse areas in the brows less visible, which allows us to get more symmetric arches.
Where to buy eyebrow lamination kit by Nanobrow?
You will find it at good beauty supply stores (e.g. Douglas), beauty salons, online stores, and official website nanobrow.us
At-home eyebrow lamination is a good choice for those who want naturally-looking, permanently-set brows, plus an easier daily brow routine. Try out the trendiest brow look without in-salon treatments using Nanobrow Lamination Kit!